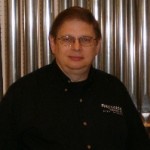 I am NOT an expert in the theater organ.   It is a parallel universe to the classical organ world of which I am a part, with its own set of building and performance rules and techniques.   That said, as an organ builder, I do know good workmanship when I see (and hear) it, and want to congratulate Carlton Smith for his masterful workmanship on the "new" Wurlitzer theater organ at the Circle Theater in Indianapolis.   Yesterday, my wife and I heard Martin Ellis, a concert organist who is uniquely at home in both the classical and theater worlds, take the Circle organ out for a spin.   It was a fun afternoon!  
My suspicion is that Mr. Smith's work is really not a pure restoration, since I suspect that this organ is far better and more polished than it would have been when it left the factory in North Tonawanda.   The theater organ was short-lived in the history of the pipe organ.   Most of them were built over a period of 15 or 20 years, and this small but profitable branch of the organ industry died a sudden death in 1929 when the first "talkie," Al Jolson's The Jazz Singer  hit the theaters.   The theater organ was all about showmanship and profit.  
Still, even though the theater organ craze died more than 70 years ago, these unique musical instruments have a large following of adherents, who continue to build, rebuilt, add-to, reassort, and, of course, play, for the joy and amusement  of those of us who wonder how they do what they do.