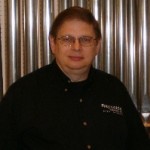 As I write this on July 14, work is progressing in the shop on the pipes we removed from the organ in early June. Just getting them cleaned up is a long process that will take a few more weeks.  As well, like a small business must do, we are also progressing on other projects.
So, I want to go back to the evolution of this project – the work that went on before a contract was signed. In terms of the church year, I think of it as the "Advent" season for the new organ at St. Joseph's.
This kind of project is, in many ways, more difficult than building an entirely new pipe organ from scratch. In that situation, the builder does not have to deal with the personality of an existing instrument. Our goal in a project like the one in Shelbyville is to create a new organ that retains what was beautiful (and financially valuable) in the old organ.  Over a century, this organ has made an imprint on the St. Joseph parish, and, at least in my mind, they have left their imprint on it.  I don't want that to be lost.
So, why do I call the organ that will result from our efforts, "new?"
Of course, the organ will be mechanically new, with new windchests, reservoirs, and console fitments. There will also be many completely new organ pipes. In this case, about 30% of the pipes are being created specifically for this organ. Meanwhile, the pipes we are reusing are going through a rigorous process to put them into new condition.
More than that, however, this organ will be a new ensemble. A bit later on in this blog, I will share a posting with you that I will call "singing lessons." But for now, think of the voices in the 1912 Moller organ as voices in a choir. The new Reynolds pipe organ will be a new, completely reorganized (pun intended) choir. The new choir will have many of the same wonderful voices as the old, but many of them will be heard in a new context, with other new singers and a new conductor.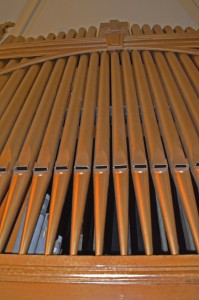 When we design a new organ from an old organ, the first thing I want to know is what the old organ's strengths and shortcomings were. When it was all working, how well did it lead congregational singing? Did it have the proper voices to accompany a choir or soloist? Could it be soft and meditative when needed, or bold and thrilling. Did it have the proper voices in the proper places to be a flexible music-maker. Finally, was it a presence in the room that helped to bring about a worshipful atmosphere?
At the same time we are answering these questions, we are also looking at the space available for pipes and the condition of the existing pipes. We also consider what has changed since the original organ was built in, in this case, 1912. New technologies, new musical forms, changes in the liturgy, and popular taste must all be taken into consideration.
Finally, with all this in mind, it is time to plan the new organ's stoplist (or specification). And that needs a posting all its own…