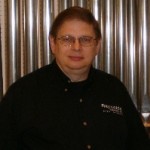 As my wife has pointed out many times over the years, 11 pm isn't a good time to start anything.  And yet I find myself, bone weary after another 16 hour day, at my desk starting to write.  After eight years of proposals, discussions, fund raising, ciphers, and dead notes; after birds and bats and Vox Humanas that don't play, we began this week creating a new pipe organ for St. Joseph's Catholic Church in Shelbyville.  The venerable 1912 M.P. Moller organ, which has given over a century of (mainly) dependable service, is not going away, it is being reborn in a new, modern Reynolds Associates pipe organ.  The process will be in almost equal parts restoration and new construction.  Most of the pipes from the old organ will find a home in the new instrument, along with many new pipes.
After nearly 40 years in the pipe organ business, I have answered many questions from organists, pastors, and trustees.  One common element in many of these questions is an attempt to understand why it takes many months to create or re-create a great pipe organ.  As this project unfolded, I thought that it would be interesting and useful to provide a periodic blog of what we are doing, and how the project is developing.  So, we begin.
What these blog postings are NOT is a daily or weekly progress report.  There just isn't time to finite our progress to that degree.  Also, organ projects are not necessarily linear.  That is, they don't always progress neatly from point A to point B.  Many individual aspects of the project will take months by themselves, while others will happen quickly.  I hope you will subscribe to Wild Air, and see what we are doing on the Shelbyville project.  It has its own blog category, so you should be able to point to it in the right margin of the blog page, and go directly to postings about this project.  While you're there, if you have time, take a read through some of the other ramblings I continue to post.
You will see from our website, www.reynoldsorgans.com, that we are engaging in several exciting projects.  I won't be able to blog them all, but perhaps the process of building a new organ for St. Joseph's will help you to understand how these great instruments come to be.
Some postings will be out of sequence, since a great deal has already happened since we signed the contract last winter.  Hopefully, I will be able to catch you up!
We're excited about this new organ, and I hope, after it's finished, you will attend the dedication service and concert.  But that's many months away!