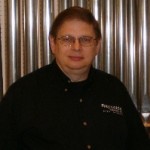 I want to comment briefly about church communication in our post-modern world.
EVERY CHURCH, whether very large or very small, should maintain a website, and should have an e-mail mailbox that is posted on that website and is monitored at least daily.  Facebook and Twitter are great, but many people don't know how to use them.  Today, it is easy and cheap (even free) to build a great website.  I also suggest that the denominational offices of the big churches (UMC, Disciples, Episcopal, Catholic, etc.) should give local churches assistance to be sure that the website structure is correct, and that all the information (contact info, service times, emergency contacts, etc.) is present.
Every business (and a church is a business) should let customers and potential customers know what it is selling.  The church is selling something beyond price.   Not having a website or blog, or not keeping it current, sends the message that that business is either out of business or in hibernation.
Here's an idea!  Find a volunteer to do this.  Maybe your church youth group will take on the maintenance of the website (with pastoral supervision, of course).
I post this here because I am constantly amazed at how difficult it can be to make e-contact with many churches.  The Internet is a magnificent tool for reaching out to others.  Which is to say, it's a tool for outreach.
All it takes is an inexpensive digital camera and a tiny bit of expertise to let your church be visible to the digital world.  Every church we encounter in our travels has something wonderful to offer.